Application deadline is August 15, 2019                                                                       



NEW THIS YEAR!  Up to $42,500 in pre-seed funding available to startups accepted into the Accelerator program
Applications CLOSED
2019 F³ Tech Accelerator
Do you have a startup idea in the agriculture tech, aquaculture tech, or environmental tech sector?  Have you validated that idea and fully developed your value proposition?  Bottom line, are you ready to commercialize, acquire customers, develop a revenue stream, and attract investors?  Then we encourage to consider applying to participate in the 4-month F³ Tech Accelerator program, September through December 2019.                                       
2019 SCHEDULE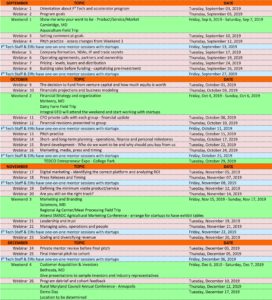 Application deadline
Application review
Application interviews
Announcement of cohort
Accelerator starts
Accelerator ends
Demo Day event
August 15, 2019
August 16- 21, 2019
August 21-25, 2019
August 26, 2019
September 3, 2019
December 16, 2019
December 17, 2019
PROGRAM OUTLINE
4-month/16-week program
Cohort of up to 5 startups
Each startup may have up to four co-founders participate
Targeted focus on agriculture technology, aquaculture technology, and environmental technology
Startups must have already validated (Technology Readiness Level 6) any innovation, science or technology associated with their business idea
Applications accepted from throughout the United States
Startups accepted into program will be seeded with $7,500 each, ($3,750 at program start, $3,750 at program midpoint), plus the opportunity to apply for additional min-grants in support of Customer Discovery ($2,500), additional Technology Validation ($5,000), and Market Validation ($2,500) activities.
$25,000 in a convertible note will be awarded to one startup at Demo Day
Startups must reside at or be affiliated with an accepted incubator or coworking facility at their own expense and must work out of the facility at least 3 days per week
Startups must participate in all F³ Tech programs and events
Startups may not participate in any other accelerator or commercialization program or have other conflicting commitments during the period of the F³ Tech program
Startups must have an accepted agriculture/aquaculture/environment industry mentor/coach
Beyond regular program content, additional content and mentorship specific to each startup will be determined once program has started
Program is a combination of virtual and in-person sessions

2 one-hour interactive webinar sessions per week
1 mentoring session with industry mentor/coach and/or F³ Tech staff per week
1 weekend (three-day, two-night) in-person session per month in Maryland (participants are responsible for their own transportation expenses to/from weekend sessions.  Hotel and meals are provided.)
PRE-SEED FUNDING
Once accepted into the Accelerator program, you are eligible to apply for up to $10,000 in Pre-Seed Mini-Grant funding.  The Mini-Grants are available in the following categories:
Customer Discovery of $2,500
Technology Validation of $5,000
Market Validation of $2,500
GUIDELINES
Acceptance will be made by the program organizers based upon the appropriateness of applications, ideas, and the level of technology readiness.
The desired outcome from participation is for entrepreneurs and teams to have a validated innovation or technology, a startup business idea with a message consisting of a viable product proposition, refined marketing strategy, achieve some level of customer acquisition, start a revenue stream, and be positioned for investor interest, all leading toward commercialization.
No equity is taken in your company or idea other than the $25,000 winner of Demo Day.
Participating entrepreneurs and teams are required to be connected with an incubator or a coworking space in order to be  part of a supporting community and network of other entrepreneurs and startups.
Though individual entrepreneurs may apply, we strongly encourage teams of 2 to 4 founders.
Importance is placed on how solid the startup team members work together and their ability to be coached and take feedback.
Your idea or product/service should be innovative and address a market need within the industry sectors of agritech, aquatech, and envirotech.
Applicants must convince organizers that any new technology or innovation has already been validated, not just a business idea. You must be able to document you are at Technology Readiness Level 6 for consideration.
Companies should still be in the idea-phase and developing a value proposition.
Companies should still be pre-revenue.
Having some form of or the potential for intellectual property is a plus but not a requirement.
The program runs for four-months.  There are two one-hour online sessions, one in-person mentoring session per week, and one in-person weekend session per month in Maryland.
Weekly deliverables are expected, mentorship sessions are required, and commitment is absolutely mandatory! Entrepreneurs and startup teams must apply and be accepted to participate.  Participation is free.