[maxbutton id="1″ ]
New Products & Services = New Profits

LEARN HOW TO DEVELOP AND COMMERCIALIZE NEW INNOVATIONS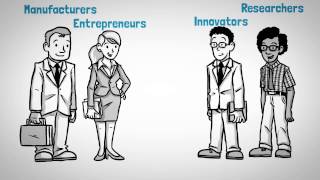 2018 Dates:
   Thursdays – January 25 through March 8
Times:
             6:00 pm to 9:00 pm
Location:
       Horn Point Laboratory – Cambridge, MD
Fees:
                $349/person plus online material license fee $140/person, total $489/person
Overview – The Innovation Readiness course is designed to help businesses and entrepreneurs navigate the process of commercialization.  In this course, you will be introduced to key concepts of innovation and explore each of the primary issues that impact bringing a technology to the market.  By the end of the course, you will have clarity on your idea and you will be able to articulate it in a way that will be compelling to potential investors, customers, and partners.
By the end of the course, you will be able to articulate the compelling details of your innovation and identify the milestones that are required as you move forward towards commercialization.
Other topics to be covered in the course include tech transfer, ideation and next generation strategies, advanced manufacturing, additive (3D) manufacturing, and change management.
Introduction – we will explain what commercialization is and how to distinguish between invention and innovation.
Tech Description – we will help you describe your innovation in a clear and concise way.  People will really understand what you have and what it can do for them.
Benefits – we will help you articulate the benefits of your innovation in a way that conveys the true value to the customer, and to their bottom line.  Rather than focusing on features or specifications, we will bring clarity to the economic and social value that your innovation will create.
Development Status – we will help you to manage your development cycle with an eye to the market.  This will increase your probability of successful commercialization.
Intellectual Property – it is very important that you protect your intellectual property.  We will explain what intellectual property is, the different type of ownership, and what can be protected.  We will also explain trademarks and copyrights, two forms of IP that can create value for your brand but are often overlooked.  Focus will also be given on patents and trade secrets, giving you a foundation for designing your own IP strategy.
Competition – how can you identify and analyze your competition?  We will help you compare the key benefits that you identified previously to those of your competitors.
Market Validation – how do you know if there is a market for your innovation?  We will explain the validation process and help you to discover exactly what the market expects from your innovation.  We will help you identify different types of validators, what goals you should have when talking to them, and what questions you should ask.
Planning and Pitching – what will you say to potential partners, investors, and customers?  We will help you assemble your thoughts and information so you are prepared for any conversation.
Presentation – and finally, we will demonstrate how to conduct effective presentations in an engaging and captivating way.
Other Subject Matter Presentations include:
Tech Transfer – is the process of transferring skills, knowledge, and technologies that originate in federal and university laboratories. This ensures that scientific and technological developments are accessible to a wider range of users who can then further develop, exploit, and commercialize the technology into new products, processes, applications, materials or services.
Ideation and Next Generation Strategies – is thecreative process of generating, developing, and communicating new ideas, where an idea is understood as a basic element of thought that can be either visual, concrete, or abstract.  Ideation comprises all stages of a thought cycle, from innovation, to development, to actualization.
Also explored are visual strategy and innovation tools, such as:
Strategic Innovation Canvas
Innovation Thinking Modes
The Innovation Pyramid
The Action Roadmap
As well as five key areas of Next Generation Strategies:
Continuous Improvement
Technology Acceleration
Supply Chain
Sustainability
Workforce
Advanced Manufacturing – is the use of innovative technology to improve products or processes.
Additive (3D) Manufacturing – is defined as the process of joining materials to make objects from 3D model data, usually layer upon layer, as opposed to subtractive (milling) manufacturing methodologies. The primary applications of additive fabrication are design/modeling, fit and function prototyping, and direct part production.
Change Management – is any approach to transitioning individuals, teams, and organizations using methods intended to re-direct the use of resources, business process, budget allocations, or other modes of operation that significantly reshape a company or organization.